If you are an environmentally conscious nature lover with an adventurous flair for the outdoors, then it might be time to consider booking your stay at one of the Springsteen ec0-cabins. Nestled in the heart of the Tulbagh valley mountain basin, these sustainable suites offer a level of comfort and style that is far removed from the rustic and rural stereotypes that come with the notion of eco-friendly accomodation.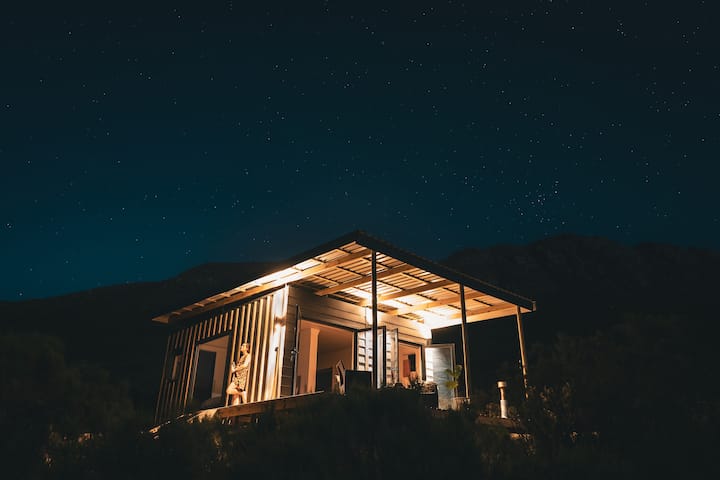 These self-catering cabins are built practically and ecologically around the core aim of ensuring that your stay leaves a minimal footprint on the environment. The smaller the better, and with these eco-cabins the footprint really is child-sized.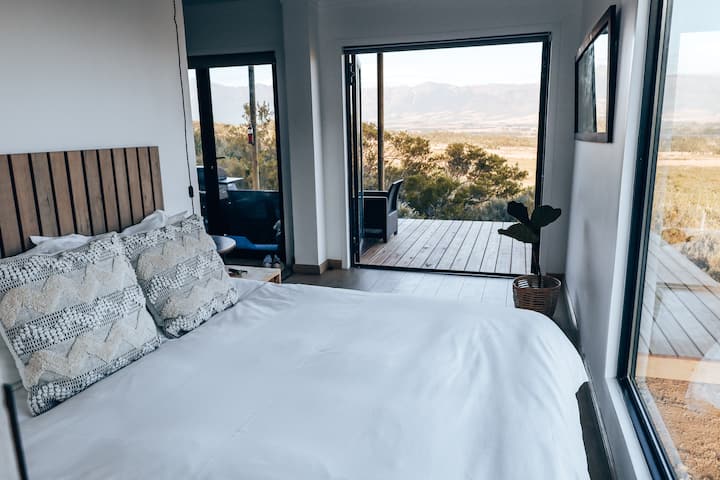 While preserving the planet is at the forefront of these cabins, comfort and style are also essential to their make-up. The minimalist design of the units works hand-in-hand with the endless beauty of the surrounding mountain basin, visible through the cabins large glass doors and windows. The connectedness to nature is tangible.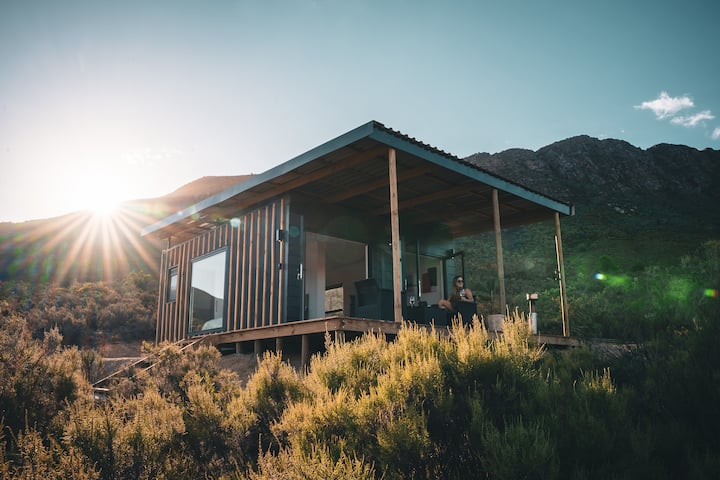 Fresh spring water is extracted from the mountains and services the cabins which are powered by solar-electricity. There is also a natural drainage system, enabling the cabins to be completely off-the-grid.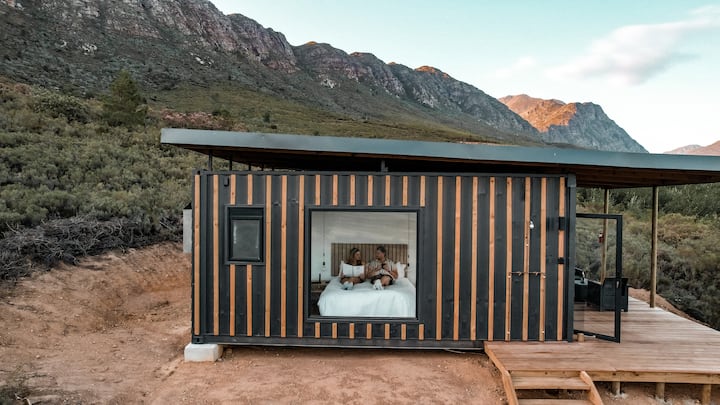 Key amenities
Kitchen
Filter coffee machine and coffee
Dedicated work space
Private garden
Outdoor shower
Private hot tub
Hot water
Long terms stays permitted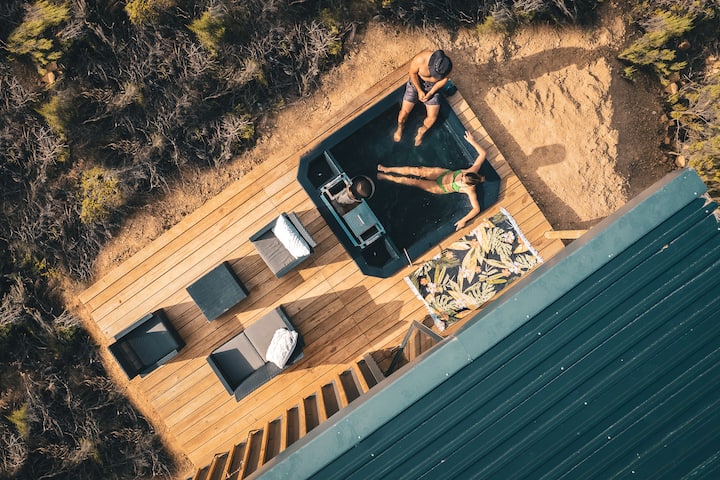 There are plenty of activities to keep you busy during your stay at the Springsteen Cabins. The Tulbagh valley is an incredibly historic site, and the fourth oldest town in the Western Cape. The town's Church Street boasts the largest number of Cape Dutch, Edwardian and Victorian provincial heritage sites in one street in South Africa.
The bowl is surrounded by the Obiqua Mountains to the west, Groot Winterhoek Mountain to the north and the Witzenberg Mountains to the east, with peaks that rise to over 1,500 metres, making this location a hikers paradise. Mountain biking is another popular pastime and sport in this region which is home to the ABSA Cape Epic.
Tulbagh enjoys some of the most diverse and attractive conditions for viticulture in the Cape, and the differences in terroir available to winemakers allow for a wide diversity of distinctive wines. In more recent years, the Tulbagh wine route has been attracting increasing numbers of tourists from all over the world.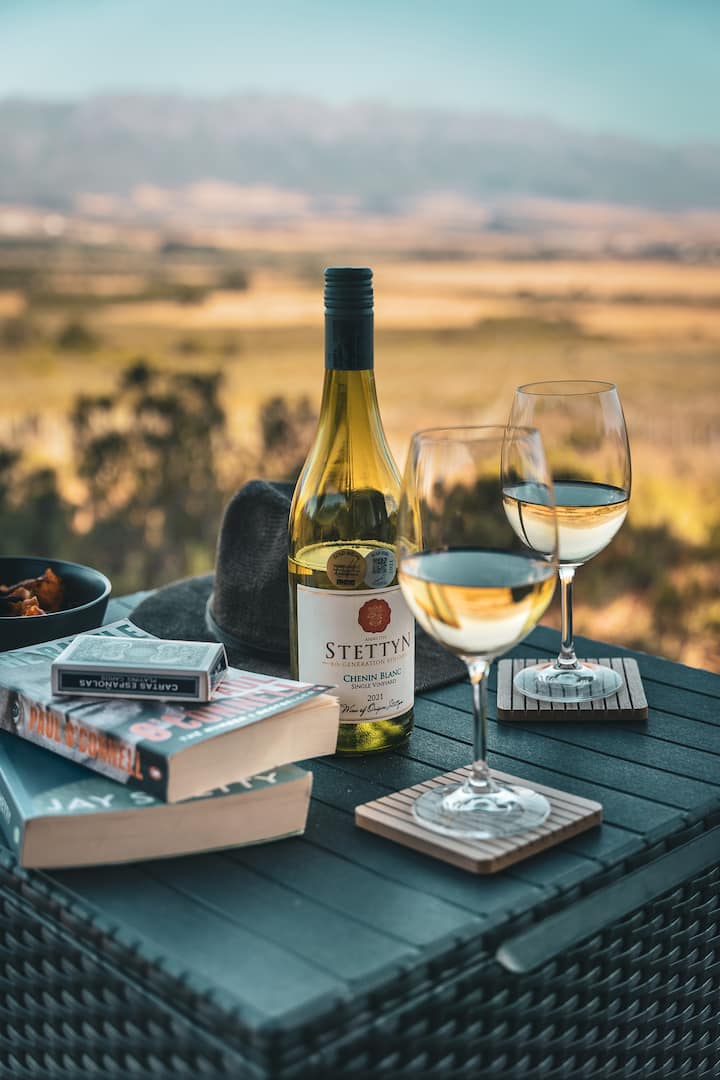 Other activities include bird watching, art galleries, olive farms, horse riding, fishing, wildflower scenic drives, zipline adventures, a Big 5 private game reserve and paragliding.
View accommodation availability and book your stay at Springsteen Cabins here.
Also read: 
Revel in barefoot luxury just off the Bainskloof pass, The Mount Bain Cabin
Picture: Airbnb