Mobile apps aim to make our lives easier (and more interesting) in the most innovative ways possible. To combat some of our daily struggles or simply for a bit of fun, we've compiled our top picks from the Google play store free apps that Capetonians simply must try.
1. The Entertainer
Cape Town's popular tourist destination status has landed us a spot on this savvy leisure and lifestyle app. The Entertainer provides thousands of Buy one Get one Free offers for dining, activities, attractions, health and fitness and more across 40 destinations world wide. With so much to do and see, now even locals can feel like a tourist in the Mother City – without breaking the bank. Treat your kids to a fun weekend, or soothe your senses at a spa of your choice using the app's many deals that are valid all year round. Available on Android and iOS.
2. From9AM Beauty
From9am.com – We heard that you were in a mood to get glam'd up, or was it an all natural face and body fix mood? Our quality collection of local made and imported makeup, eye, Lip, face, hair, body and feet products cater for all types of moods! We also stock a wide range of beauty tools that will help you out when wanting to look your best for going out or staying in. From9AM beauty is South Africa's most essential online shopping destination for makeup brush sets, blush and powder brushes, beauty blenders, makeup bags, tweezers, foundation, eyeshadows, palettes, eye makeup, lashes, concealers, contours, highlighters, bronzers, primers, setting sprays and more! Our hand picked collection of haircare will leave your hair nourished and fresh so that you can avoid dealing with dry scalp and brittle hair situations.
Discover our range of lip care from lacquers to glosses, as well as matte lipsticks and lipsticks in various colours for your perfect finish. Online, is also our lip liners and treatments such as scrubs, balms + way more!
3. UGoMyWay
Another solution to Cape Town's congestion and traffic woes, the UGoMyWay application encourages commuters to carpool and share their everyday journeys.
Users can create a profile with their routine journeys, such as home-to-work or home-to-school, and the app will then match you with others in your vicinity traveling in the same direction.
Once you've found a match, a messaging function allows you to get to know one another and make arrangements. In-app payments means there's no need for cash or banking details – just hit pay. Costs can be shared according to personal agreements.
4. Domestly
Apps make your life easier in every sphere – even when it comes to cleaning. Domestly is an online platform based in Cape Town that helps connect professional cleaners with busy people anywhere in the city. Each professional has their own profile on the app that lists their details, services offered and allows clients to rate the level of service they received once the job is done. Members on the platform set their own rate according to various services. This way, Domestly appeals to a wider audience while still ensuring a salary that if fair. All payments are done within the app via credit card. Available on Android and iOS.
5. Drop Drop
Drop Drop, a new app developed by UCT's Department of Information Systems, helps users save and keep track of their water consumption at home. By entering a reading from the municipality's water meter, the app will calculate your projected water usage for the month – which you can then use to optimise consumption in relation to your bill. Drop Drop will also suggest additional saving tips to implement at home. What's more, you're able to log reports about water delivery services, and the app will then provide you with the contact details you need to help resolve the issue.
With Cape Town's water crisis and stringent water restrictions, Drop Drop is a pioneering tool in aid of our conservation efforts. Download it now from the Apple App Store and Google Play Store.
6. GetTOD
Launched by four Cape Town entrepreneurs, GetTOD (Tasks on Demand) helps users to find technical and repair services on demand. The app has partnered with Builder's Warehouse and provides a network of reliable plumbers, electricians, locksmiths and handymen that you can track in real-time to your door. With 24/7 service, there is no need to book ahead, so all your emergency needs can be met in an instant. Download from the Apple App Store of Google Play Store.
7. Superbalist.com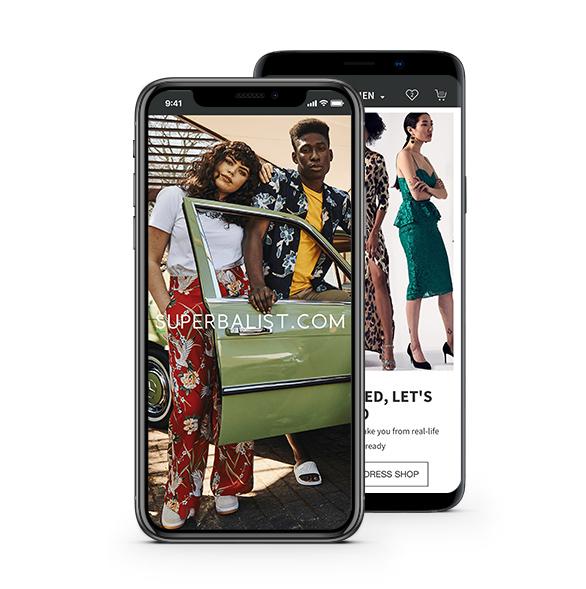 Superbalist is a South African online fashion, beauty and apartment destination. Shop over 500+ brands online and use one of our safe payment methods like credit, debit card, cash on delivery and EFT. Carts over R450 qualify for free shipping, plus try our Click and Collect function for optimum convenience. From workwear to sweats and other off-duty staples, formal and casual attire, our online fashion selection will have you serving looks at every occasion
8. UberEats
Skip the travel and reservations, or even getting dressed and order food from your favourite eateries using UberEats. Simply type in your address to browse the restaurants and take-outs near you. You can view the menu's while the app suggests meals for you based on their 'Most Popular' feature. Pay through your Uber account for the food and delivery and watch your meal come right to your door. Download from the App Store or Google Play Store.
9. Uber
Essentially a car service at the touch of a button, Uber has revolutionised the public transport industry in South Africa. Using your location and desired destination, Uber connects you to their nearest drivers near you. Identify your ride through the number plate and car model while the drivers' detailed are also provided. Pay in-app using your card or with cash once you've arrived safely. Uber is available on both the Apple App Store and Play Store.
10. Snap Scan
Snap Scan allows you to make quick and convenient payments using only your phone. Once you've installed the app, link to your credit or debit card so you can start shopping at any store displaying a SnapScan code. Keep track of your expenses by viewing a list of you previous transactions or search for merchants near you. SnapScan can be downloaded on Android and iOS.
Photography Unsplash/screen shots from the Apple App Store